I'm back (and hopefully you are too) for another week of the web's noteworthy stories. While there weren't any bodily fluid facials this week, I think I've found some interesting stuff nonetheless. Before we jump in, I'm linking up with a NO RULES blog hop. Because you know IDFW rules. If you don't know her already, her name is Paula and she's adorable. Feel free to visit her and link up.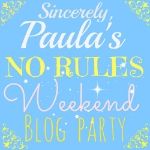 Photo credit:
Marc Piasecki/GC Images
If you've been living under a rock, Kim Kardashian West says she was tied up, blindfolded, and robbed in her a Paris apartment Hotel. While I think the biggest crime being committed here is Kim's choice of pairing lingerie with track pants; I'll let you be the judge of the inconsistencies in this still breaking

story. I'm not mad at you, Kim. It must be hard to watch your much younger sister be a better version of-well...you. Even Kim is trying to keep up with the Kardashians.
Let's switch gears, because we're all Kardashian'd out.
Finally, an Illinois couple has beef with fast food giant, Burger King. According to
Nancie and Martyce Murphy of Naperville, Illinois, their burgers came with a

handwritten sentiment

on the inside of the sandwich wrappers. I smell a juvenile delinquent with too much free time. It's not often you unwrap your dinner only to see everyone's favorite four letter word. I'm not gonna lie you guys; this is something I would have done when I was sixteen. (Okay, probably even yesterday, if I'm being honest with you.)
Some woman who went viral as "Zola the Stripper" real name Aziah King, fed the twitter trolls by posting a photo of her breastfeeding her five-month-old daughter in a Hooters restaurant. Hey, seems like the most appropriate restaurant for it if you ask me.
Spoiler alert. There's a boob. Gasp. Read on...
It always amazes me how passionately people feel about breastfeeding in public.
I w
ant to hear what you guys think about this one. Offended? Not at all, a Lil bit? Should the mother have been more discreet? Leave me a comment and tell me what you think.